Bill Baggs State Park Weekly Beach Cleanup | Baynanza 40th Anniversary Edition!
For the April 23rd date of our weekly cleanup, it's Baynanza 
You must register online here to participate. To join us at this location, be sure to select "Bill Baggs State Park" location from the drop down. Register now through March 27th  https://survey123.arcgis.com/share/01292e89397349c0a13347fc97e18f28?fireglass_rsn=true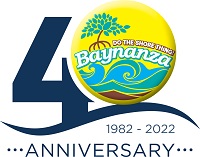 Baynanza is a celebration of Biscayne Bay and its significance as one of the most important ecological systems in South Florida. Celebrated throughout March and April, Baynanza culminates with the Biscayne Bay Cleanup Day where thousands of volunteers join together to help clean up our bay's shoreline. Since Baynanza's beginning in 1982, volunteers have helped remove over one million pounds of trash from Biscayne Bay.
Baynanza is now commemorating its 40th year, and on Apr. 23 from 9 a.m. to noon will once again bring the community together to celebrate our incredible marine resources and help restore Biscayne Bay's shoreline at 27 locations across the County. Volunteers at all the cleanup sites will receive a free commemorative T-shirt, and community service hours are available to all students who participate. Check back soon to view the Baynanza Calendar of Events and to register as a volunteer for the Biscayne Bay Cleanup Day.
Registration is now open through Mar. 27.
Come on out and join us for our weekly cleanup! Please bring along sunscreen, insect repellent, and a reusable water bottle.  We will provide buckets, trash bags, plastic gloves and trash grabbers.
We meet at Pavilion C-16 beach access 7 near the lighthouse. The Cleanup lasts from 9am to 11am. Expect a long line to enter the park. When you arrive to the park tell the ranger on duty that you are attending the beach cleanup and they will give you directions and waive the entrance fee.
Individuals under 18 years of age require adult supervision.  Please, no drop-offs.   
This is a great way to earn volunteer hours for school or work, so please tell your friends about this opportunity.  All Volunteers will receive a letter certifying their volunteer hours.
Thank you and we hope to see you there.  We believe that teaching stewardship for our environment and community is the best hope for the future of our parks.
Saturday, April 23, 2022
09:00 AM - 11:00 AM
Bill Baggs Cape Florida State Park
Shane Zigler

786 582 2678